Specialist Recovery
If your vehicle is in a hard to access position or you require a discreet way to transport your vehicle we have a solution to help with this.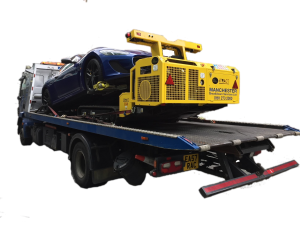 EasTract is a specialised recovery vehicle fitted with caterpillar tracks that is controlled remotely by the engineer and is a cross between a forklift truck and a tow truck. The EasTract is able to remove all types of vehicles, gently and without any technical constraints (the system slips underneath the vehicle and lifts it without traction effect).
EasTract is able to take a vehicle even if the car is locked, damaged or burnt out, from any location (underground parking, small courtyard, in a filed, in the mud or on the snow, etc…) where a truck can not go because of it size. It is also able to remove automatic and 4×4 vehicles without causing any damage to gearboxes or four wheel drive systems.
The EasTract is then loaded onto the recovery truck with its load with a vehicle of up to 2.5 tons.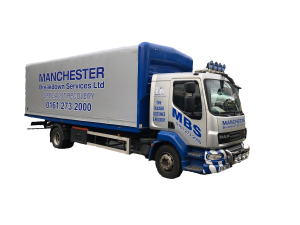 Our Covered Car Transport Services
Manchester Breakdown Services are able to offer covered car transport services through its modern fleet of purpose built custom covered car transporters. We are able to accommodate many different types of cars, from classic and prestigious vehicles through to high value super cars and race cars.